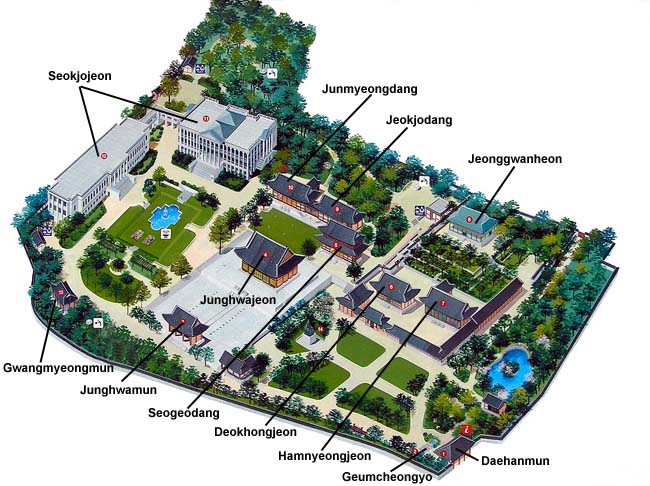 Here's a map from art-and-archaeology.com of the palace grounds, so you can reference locations when I mention them.
It snowed a lot on my first trip to Seoul, and it was quite cold, but this was possibly the ugliest day on my entire trip. Deoksugung is an important palace, that's certainly true, but the others scattered around Seoul are larger or more beautiful. It's worth seeing for the throne and the museums at the back of the property.
Tickets that include four palaces and Jongmyo Shrine can be bought for 10,000 won (about $10) and are the best value if you're going to see all of the palaces. Admission to just Deoksugung is only 1000 won (about $1).
The grounds are open 9:00-21:00, closed Monday. Take the subway to City Hall Station on Line 1 or Line 2, and use Exit 2, which puts you right in front of the main gate.
Junghwajeon is open only Saturday and Sunday, 9:00-16:00. Ceremonies for the changing of the guards are at 11:00, 14:00, and 15:30. (Note that I can't confirm this information on the Deoksugung website.)
English language tours are given Tuesday through Friday at 10:30, and Saturday (odd months)
or
Sunday (even months) at 13:40.